The Doing Business report published by the World Bank was launched in 2002 and measures features of business rules and regulations that affect the establishment and operations of companies located in the largest business city of an economy. This annual assessment is reflected in an "ease of doing business" index for each country including Fiji, and ranks it against other countries based on 11 areas of business regulation across economies. Table 1 provides the areas covered and the indicators used in measuring Fiji's ranking for 2016 and 2017.
Countries are ranked between one and 190 (depending on the number of countries assessed in the report). A better ranking (that is a low numerical value) indicates countries which have simpler and more user friendly regulations for businesses.
Looking at past trends, Singapore continued to top the global ranking on the ease of doing business for 10 consecutive years until 2016. In the 2017 report released on 25 October 2016, neighbour New Zealand was ranked first, followed by Singapore, Denmark, Hong Kong and South Korea. New Zealand has been ranked as the best country in terms of starting a business, dealing with construction permits, registering property, getting credit and protecting minority investors.
Doing Business in Fiji
Looking at Fiji's Doing Business performance over the past 7 years, the overall ease of doing business ranking improved significantly from 2011 to 2012, before deteriorating between 2013 and 2015, and thereafter improving slightly in 2016. In particular, the lower ranking in 2013 was attributed to certain regulatory requirements that made it compulsory for companies to obtain a certificate from National Fire Authority and a letter of compliance from the Ministry of Labour when starting a business, making it a seemingly more cumbersome process.
In 2017, Fiji ranked 97 overall, compared to 84 in 2016 (refer to Chart 1). Cost effectiveness, reduction in the time required to start a business as well as lower fees at the Business Registrar resulted in an improved rank in three out of the 11 categories, namely: 1) starting a business; 2) protecting minority investors; and 3) trading across borders. Fiji's ranking for registering property remained the same (refer to Table 1).
 Chart 1: Ease of Doing Business Ranking for Fiji (2011-2017)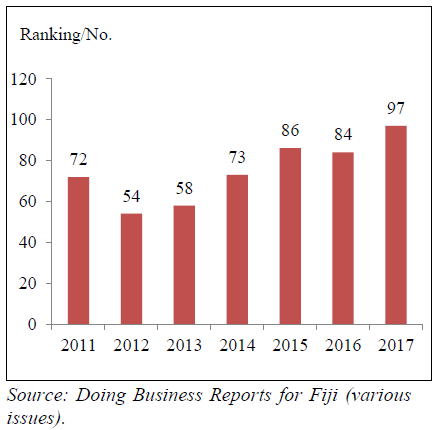 However, Fiji fell notably in rank with regard to getting credit. This is associated with the decision to suspend operations of the Data Bureau Limited in May 2016. Being the country's only operating data bureau, the suspension limited the access to credit information. Nonetheless, this development is expected to be temporary. The 'Fair Reporting of Credit Act' was passed by the Fiji Parliament in April 2016 and was initiated on 26 May 2016. This is anticipated to provide the legal framework for credit reporting agencies to operate with oversight by the Reserve Bank of Fiji, as the regulator. This would ensure transparent and accountable reporting of customer information for credit purposes as well as safeguard a person's right to privacy, provide redress mechanisms for individuals and ensure that there is no conflict of interest between the credit reporting agencies and the users of credit information.
Use of Report
The Doing Business report is specifically targeted at policy makers, businesses, potential investors and researchers.
The report can act as a benchmarking tool amongst various other indicators. It can stimulate policy debate on potential challenges as well as identify good practices from other economies, which ultimately lead to the implementation of more appropriate business regulatory reforms. It can also be used by research organisations to develop new indices as well as to produce research papers.
Data Collection
The Doing Business team from the World Bank collects data from all the economies through a survey which is administered by local experts. These experts include lawyers, business consultants, accountants, freight forwarders, certain public officials (such as those from property registry) and other professionals involved in the administration of legal and regulatory environment. The experts liaise with the Doing Business team through questionnaires, conference calls, written correspondences as well as country visits. The number of contributors for each of the topics for Fiji is also tabulated in Table 1.
The data used are as at June (of the previous year), except for the paying taxes indicator which is for the earlier calendar year.
Table 1: Areas of Business Regulations Measured by Doing Business, number of contributors for each indicator for Fiji and Fiji's ranking for 2017 & 2016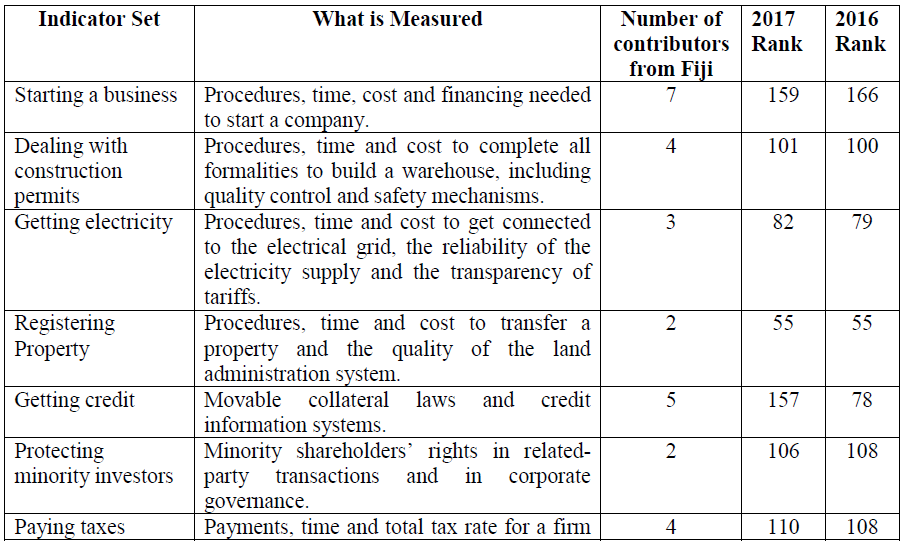 Sources: Doing Business 2017and http://www.doingbusiness.org/contributors/doing-business/fiji
Note: * features of labour market regulation is presented as an annex in the report and not factored into the ease of business rankings.
Limitations
The rankings may change from year to year to capture the effects of data corrections, changes in methodology or the inclusion of new economies which limit reliable comparisons over a longer period of time.
In addition, the rankings are limited in scope implying that there are other areas that are just as important to businesses, such as the proximity to large markets, the security of property, transparency of Government procurement, macroeconomic conditions and the underlying strength of institutions which are not directly studied in the Doing Business report.
Moreover, the indicators used refer to a specific type of business only, generally, a local limited liability company operating in the largest business city which may not be representative of regulations in other parts of the country or on other businesses such as a sole proprietor.
Conclusion
While the deterioration in Fiji's ranking for doing business is a concern, it is only one indicator to gauge the investment climate in Fiji. Other key issues such as tax reforms (low tax rates since 2009), improved macroeconomic conditions since 2011, political stability after 2014 general elections, supportive investment environment through lower interest rates and availability of funds for lending, are equally important and must be considered in providing a holistic assessment of doing business in Fiji. In this regard, the Government has sought the assistance of the World Bank and also set-up a special taskforce (including the RBF) to address relevant areas that will help improve Fiji's Ease of Doing Business ranking.
For more details on Doing Business in Fiji, please refer to: