Complaints Management Update Quarter 2, 2013
A. Number of Complaints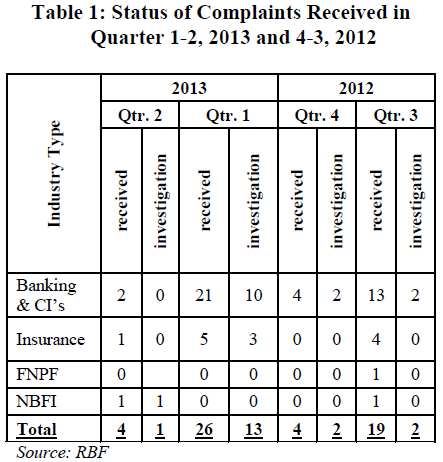 As at June 2013, the number of complaints received for Quarter 1 and 2 are 26 complaints and 4 complaints respectively. The numbers of complaints that are under investigation or pending to be closed are 13 for Quarter 1 and 1 for Quarter 2 of 2013.
Majority of these pending complaints are with the complainants (4), LFIs (3) and being assessed by RBF (6).
Similarly, for Quarter 3 of 2012, 1 complaint is with the complainant and 1 is with LFIs. The complaint with the LFIs was on non-negotiable cheques "negotiated" by customers and or others and enchased by third parties. The second complaint is with the complainant.
For quarter 4 of 2012, 1 complaint is currently being assessed internally by the RBF and the other is with the complainant for their response.
B. Nature of Complaints
The natures of complaints received by the RBF on the banking industry were mainly on lending, mortgagee sale, interest rates and fees/charges (Table 2).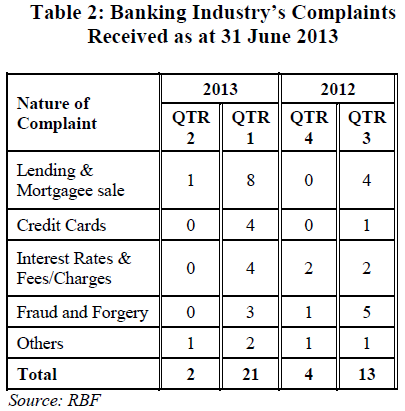 The complaints received by the RBF against the insurance industry were mainly on declinature of insurance claims by the insurers due to non-disclosure of material information (Table 3).
OUR VALUES…Professionalism…Respect…Integrity…Dynamism…Excellence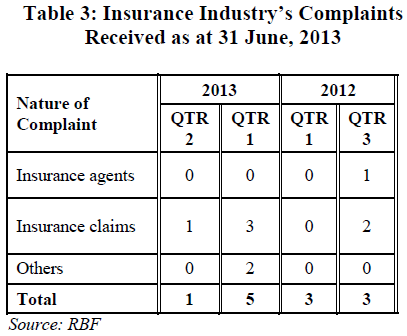 C. Consultative Meetings
During the quarter the RBF held 14 meetings with complainants. These meetings were aimed at addressing concerns raised by the complainants.
In the quarter, RBF held 6 meetings with financial institutions. These meetings were on issues raised by complainants and on ways to resolve them.
An induction was held for 3 new member of the Complaints Management Forum and a meeting with the Data Bureau was also held to understand the operations of the bureau.
D. Complaints Management Forum
The 3rd Complaints Management Forum is tentatively scheduled for 18 July 2013.
Financial Systems Development & Compliance Group
Reserve Bank of Fiji
June 2013