Complaints Management Update Report
A. Background
The purpose of this report is to provide an update on the complaints that the Reserve Bank received at Quarter 1, 2014.
B. Highlights
Overall, the number of complaints recorded in Quarter 1 of 2014 decreased by 31 percent when compared to the previous quarter.
Similarly, the complaints received in Quarter 1 of 2014 declined by 59 percent when compared to Quarter 1 of 2013 (Table 1).
Majority of complaints received were for banking fees and charges, visa card charges, loan processing or repayment options, mortgage related complaints, terms and conditions of insurance policy and declinature of insurance claims due to non-disclosure of material information.
The Reserve Bank will work closely with Licensed Financial Institutions to effectively manage and resolve complaints.
C. Complaints Analysis
Types and number of complaints received in 2013 and 2014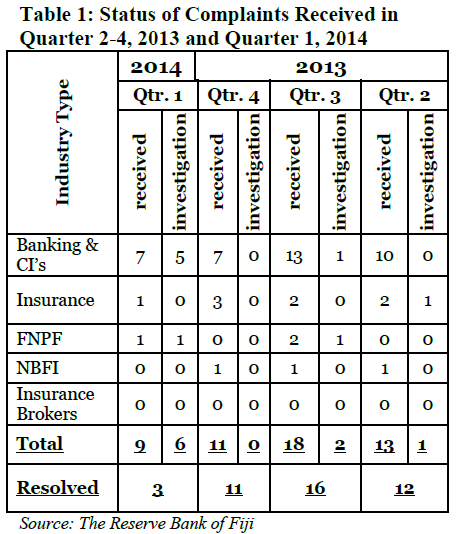 Complaints under investigation
As at 31 March 2014, 3 complaints were outstanding from 2013. These complaints were with financial institution (obtaining legal advice on the issues).
Similarly, for Quarter 1 of 2014, 6 complaints are with the LFIs. These complaints were on fees and charges, mortgage documentation, allegation of fraud and loan processes.
OUR VALUES…Professionalism…Respect…Integrity…Dynamism…Excellence
D. Types of Complaints Received
The nature of complaints received by the RBF on the banking industry was mainly on lending, mortgagee sales, fees/charges and Fraud (Table 2).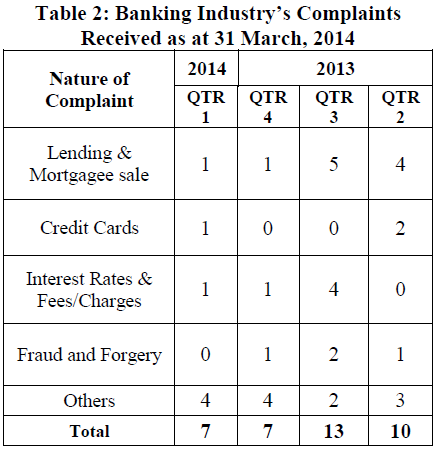 The complaint received by the RBF against the insurance industry was on allegation of fraud. (Table 3)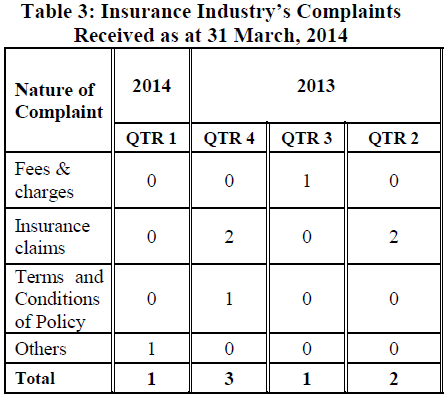 E. Consultative Meetings
During the quarter the RBF held 12 meetings with complainants. These meetings were focussed on addressing concerns raised by the complainants.
In the quarter, RBF held 9 meetings with financial institutions. These meetings were on issues raised by complainants and on ways to resolve them.
F. Complaints Management Forum
The first Complaints Management Forum meeting was held on 4 April 2014.
Financial System Development Group
Reserve Bank of Fiji
29 April 2014