Reserve Bank of Fiji
Complaints Management Update Report
A. Number of Complaints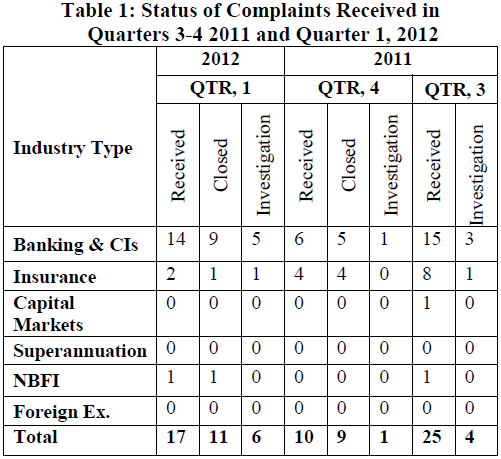 B. Nature of Complaints
1. The number of complaints received by the Reserve Bank on the banking industry was mainly on Housing loan, money laundering activity, Fraud, Fees and charges (Table 2).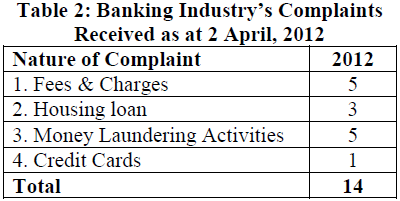 2. The two complaint received by the RBF against the insurance industry was on subagent and insurance claim.
3. For the non-bank financial institutions, the complaint was on debit card surcharges by a shop keeper in Rakiraki.
C. Meetings Held
4. There were 4 meetings with complainants held. These meetings were aimed at addressing concerns raised by the complainants.
5. There was a meeting with the President of the Fiji Retailers Association to discuss the issue on credit card surcharges by retailers.
6. There was one Court hearing in which RBF appeared and the court ruled that the case be adjourned sine die (indefinitely) until such a time as the matter is thoroughly investigated by the Police. The complainant has been ordered to re-lodge his complaint with Nausori Police station or Commissioner of Police if need be.
Financial Systems Development & Compliance Group
Reserve Bank of Fiji
2 April 2012