Press Release No 37 –
RBF Announces Executive Position
Press Release No. : 37/2011
Date : 23 December 2011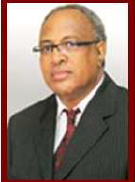 The Reserve Bank of Fiji is pleased to announce that Mr. Vereimi Levula has been appointed as the Chief Manager Financial Systems Development and Compliance Group with effect from 1 January 2012.
Mr. Levula had been acting in this position since 7 February 2011. He joined the Bank in 1989 as the Senior Insurance Technical Officer in 1989 and was later promoted to the position of Assistant General Manager in the Capital Markets Division. He assumed the role of Manager Domestic Markets in 1998 and later moved to the Manager Insurance Supervision position in the Financial Institutions Group. In 2008, Mr. Levula was appointed as the Advisor Financial Supervision and Policy and in 2009 he became Manager Financial Systems Compliance.
Mr. Levula attained a Master of Business Administration Degree from the Central Queensland University in Australia in 1993. He is also a Fellow of the Chartered Insurance Institute in London and a Chartered Insurance Practitioner and holds a Diploma in Insurance and Insurance Management from the United Kingdom.
In announcing the appointment, the Governor, Mr. Barry Whiteside said that given the challenging and ever-growing role of the Reserve Bank in new areas such as financial inclusion and the continuing importance of capital markets development, the Bank is pleased to have filled this position.