The ability of a Fijian to purchase a bag of New Zealand grown apples, drive a Japanese made vehicle or use a Chinese manufactured mobile phone is a direct result of international trade. International trade allows Fijians to access goods and services that are otherwise not available in the domestic market and to also facilitate the purchase of local products by foreign buyers.
What Is International Trade?
International trade is defined as the exchange of goods, services and capital1 between trading partner countries and regions2. A product that a country sells to another country is considered an export, and a product that a country buys from another country is known as an import. As an open economy, Fiji exports as well as imports goods and services; this allows Fiji to specialise in what it produces best for export and increase economic welfare by importing a wider variety of goods and services into the economy for consumption or even investment purposes.
International trade allows Fiji to bring in different varieties of goods and services, providing consumers with a wider range of choices and lowers prices by broadening supply sources and strengthening competition. It also allows local producers to allocate resources efficiently and avoid wastage by specialising in the production of goods in which they have a comparative advantage. In addition, producers are able to diversify their customer base by exporting their products abroad and in turn earn foreign exchange. International trade also encourages the establishment of newer industries to cater for global demand and creates employment in the process. Another benefit of international trade is that it encourages innovation and can boost productivity by enabling the exchange of expertise, technology and investment in research and development through foreign direct investment.
The increasing volume of international trade has made participating countries more interconnected. Fiji's major trading partners are Australia, New Zealand, the People's Republic of China, Singapore, the United States of America (USA), Japan, the United Kingdom (UK) and Pacific Island countries. Altogether, these countries account for 76.5 percent of Fiji's total goods
1 Capital transfers receivable and payable between residents and non-residents and the acquisition and disposal of natural resources, contracts, leases and licences and marketing assets between residents and non-residents.
2 Source: International Monetary Fund. (2009). Balance of Payments and International Investment Position Manual (6th ed.). Washington D.C: IMF Publishing Services.
imports and 73.8 percent of Fiji's total goods exports. The total value of Fiji's gross international merchandise trade (imports plus exports) reached $6.8 billion in 2016, an average increase of 3.4 percent over a 5-year period since 2012.
Fiji's Trade Position
Fiji currently runs a goods trade deficit, which means the county imports more than it exports. As a small developing country with a limited export base, this is not uncommon. Fiji has a relatively higher import bill to cater for its growing local demand for foreign goods and services. These traded goods and services have evolved over the years in terms of composition as domestic demand has shifted. Exports and imports can be classified as either goods/merchandise or services.
Merchandise Trade
Goods or merchandise exports are divided into two main categories: domestic exports and re-exports. Domestic exports are commodities grown, produced or manufactured in Fiji which mainly include sugar; mineral water; gold; garments; fish; timber; fruits and vegetables; molasses; yaqona; textiles, clothing and footwear (TCF); coconut oil and other commodities. These also include commodities which were first imported, undergo a significant level of value addition and then exported to other economies.
In contrast, re-exports are foreign goods that are exported with no substantial transformation from the state in which they were previously imported3. Major re-exports include petroleum products, fish and returned aircraft. As most regional countries do not have the storage capacity to import petroleum, Fiji acts as a trans-shipment hub by first importing petrol and then re-exporting to its regional buyers. Another item that is classified similarly is returned leased aircraft. A country may choose to lease aircraft from a foreign company (lessor) for a number of years because they are too expensive to purchase. At the beginning of the lease period, the aircraft enter the country as imports. When the lease agreement expires, these aircraft are returned to the lessor, and are classified as re-exports.
3 Source: International Monetary Fund. (2009). Balance of Payments and International Investment Position Manual (6th ed.). Washington D.C: IMF Publishing Services.
In the past five years (2012-2016), merchandise exports rose on average by 0.7 percent. The growth was attributed to higher earnings from total domestic exports (2012-2016 average growth of 1.8%) led mainly by yaqona; fish; mineral water; garments; timber and sugar which more-than-offset the average decline in gold; fruits and vegetables and molasses as well as total re-exports (average decline of 2.7%).
Table 1 – Merchandise Exports (F$M)
Goods or merchandise imports in Fiji consists of consumer goods (food, beverages and tobacco, manufactured goods and miscellaneous items4), intermediate goods (crude materials, mineral fuels and oils and fats) and investment goods (chemicals and machinery and transport equipment5). Fiji's imports
4 Source: International Monetary Fund. (2009). Balance of Payments and International Investment Position Manual (6th ed.). Washington D.C: IMF Publishing Services.
5 For analytical and interpretation purposes, aircraft and aircraft related items have been excluded from the machinery and transport category.
have grown in the past five years at an average rate of 4.9 percent, largely led by higher imports of machinery and transport; manufactured goods; chemicals; crude materials; food, beverages and tobacco and other commodities, which more-than-offset the declines in mineral fuel imports on the back of subdued global oil prices. However mineral fuel remained Fiji's highest import prior to its decline in July 2014.
Table 2 – Merchandise Imports (F$M)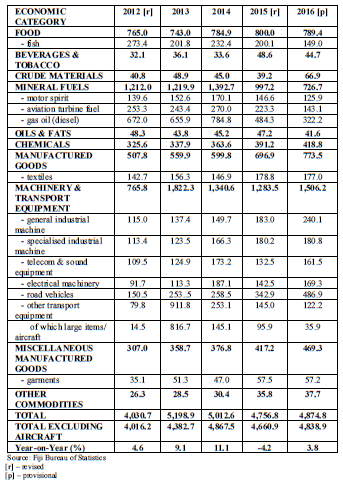 Services
Services also account for a major part of trade. When tourists bring in foreign currency to pay for services offered in Fiji, this is considered as a services receipt (export) and when a Fiji resident pays to use a foreign service, this is known as a services payment (import).
On the receipts side, the services sector in Fiji constitutes the largest share of gross domestic product (GDP), accounting for a total of 71.6 percent. Our key services industry is tourism which is Fiji's major export earner, contributing earnings that are more than double the value of inflows from remittances and substantially surpasses all other traditional sources ofreceipts. In the five year period beginning in 2012, tourism earnings grew steadily at an average rate of 4.6 percent to $1,602.9 million at 2016 end. Our major tourism source markets are Australia, New Zealand, USA, Pacific Island Countries, China, Continental Europe, UK and Canada.
While on the services payments front, the major imports for Fiji are transport services, largely attributed to freight charges.
Fiji's Trade Agreements
To better facilitate trade and simplify the flow of goods and services with its trading partners, Fiji has entered into a number of trade agreements. A trade agreement is a contract between two (bilateral) or more countries (multilateral) to establish an exchange of goods and services where trade exists with reduced barriers. Some examples of these treaties are the Melanesian Spearhead Group Trade Agreement (MSG), Pacific Island Countries Trade Agreement (PICTA), Interim Economic Partnership Agreement (IEPA), The South Pacific Regional Trade and Economic Cooperation Agreement (SPARTECA) and Pacific Agreement on Closer Economic Relations (PACER). Fiji uses these agreements to gain a competitive edge over global market players and to better establish the country's trading facilities.
Conclusion
Trade between Fiji and its major trading partners has increased steadily in the last five years, indicative of the rise in domestic demand for foreign goods and services and vice versa. Fiji's growing trade flows have an important impact on foreign reserves levels, inflation and more broadly consumption, investment and growth in the economy.
Fiji has gained a lot from international trade including accessing a wider range of goods and services and allowing local producers to tap into global markets. Other benefits include the expansion of local industries and the resulting increase in employment and economic activity, and encouraging innovation. Looking ahead, there are still a number of untapped markets and products that Fiji could explore in order to expand international trade and in turn grow the economy.