Complaints Management Update Report
September Quarter 2014
A. Background
The Reserve Bank of Fiji (RBF) issued Banking Supervision Policy Statement No.13, Insurance Supervision Policy Statement No. 9 and 9a, FNPF Supervision Policy Statement No.3 and Capital Markets Supervision Policy Statement No.3 on Complaints Management to the Licensed Financial Institutions (LFIs)1 in 2010. The Policy requires LFIs to implement a Complaints Management Framework that effectively and efficiently resolves complaints by customers of the LFIs. The Policy also enables customers who are not satisfied with the outcome of their complaints to further refer their complaints to the Reserve Bank for mediation and resolution. In the third quarter of 2014, 17 complaints were referred to the RBF for mediation and resolution. The purpose of this report is to provide an update on those complaints. The data in this report does not include the complaints received and resolved by the LFIs themselves in the third quarter of 2014.
B. Highlights
The number of complaints received decreased by 8 over the quarter to 17. When compared with the same period last year, the number of complaints decreased by 1.
The majority of complaints received were related to the banking and insurance sector (Graph1).
1 Commercial Banks, Credit Institutions, Insurance Companies or brokers, Fiji National Provident Fund.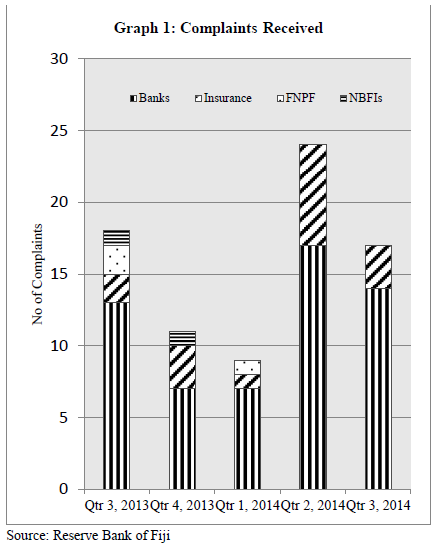 C. Complaints Analysis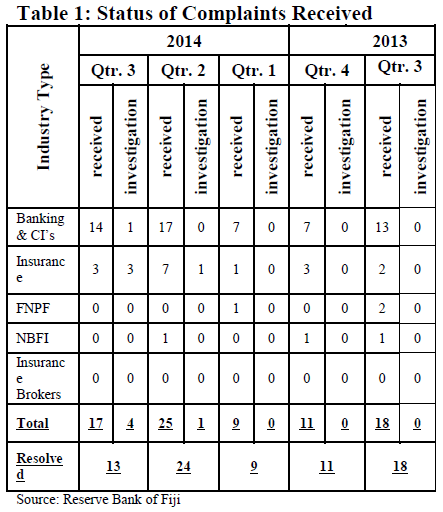 Complaints under investigation and resolved
In the review quarter, 4 complaints remained unresolved. Of this, 3 complaints have been forwarded to LFIs for clarifications while 1 complaint is currently being assessed by RBF.
For the September 2014 quarter, 76 percent of complaints were resolved. Most of these complaints were resolved through mediation. Resolutions to these complaints included loss sharing between financial institution and customer, accounts restructure on the grounds of hardship, verifying customer account balance and details and rebate of interest rate charged.
D. Types of Complaints Received
The complaints received by the RBF against the insurance industry were on surrender of life insurance policy, motor vehicle claims and medical insurance claims (Graph 2).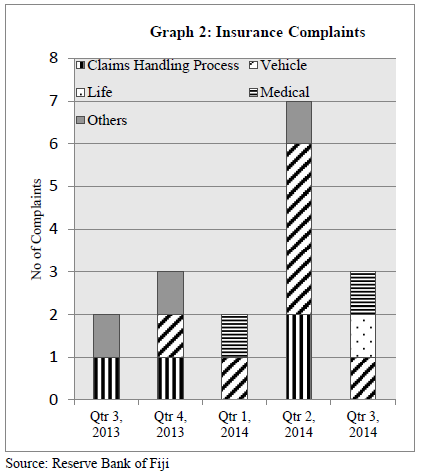 The nature of complaints received by the RBF on the banking industry were mainly on lending and mortgage, verification on deposits and system (Graph 3).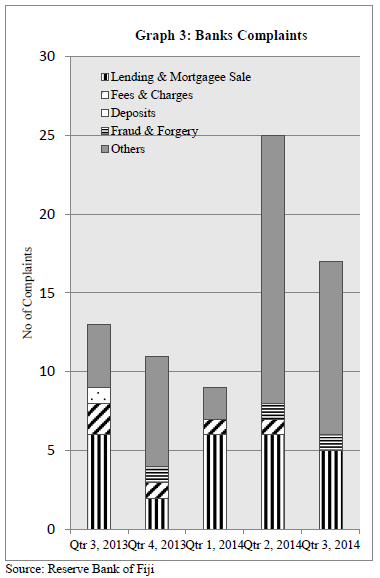 E. Consultative Meetings
During the quarter the RBF held 13 meetings with complainants. These meetings were convened to address concerns raised by the
complainants.
In the quarter, RBF held 7 meetings with financial institutions. These meetings were on mediation and clarification on issues raised by
complainants.
F. Complaints Management Forum
The final Complaints Management Forum meeting is scheduled for 10 December 2014.
Financial System Development Group
Reserve Bank of Fiji
October 2014.