Economic Overview
In 2012, global economic activity deteriorated significantly as many advanced nations were mired in recession and uncertainty surrounding sovereign debts. Despite signs of improvement towards the latter part of the year, the backdrop of weak external demand, subdued domestic activity, depressed labour markets, and high fiscal debt dented a solid recovery for the economy world.
International Economic Developments
The European debt crisis continued to pose downside risks to the overall health of the global economy, while uncertainties surrounding the expected consolidation of fiscal policies in the United States (US) exerted further drag on growth towards the end of 2012. Monetary and fiscal stimuli were further boosted by policymakers as many economies were losing steam. This however, was complicated by the expected austerity measures for certain economies and withdrawal of stimulus since the onset of the global financial crisis. As a result, the International Monetary Fund (IMF) estimated a further deceleration of world economic growth to 3.2 percent in 2012 from 4.0 percent in 2011, and emphasised the significant downside risks to the outlook.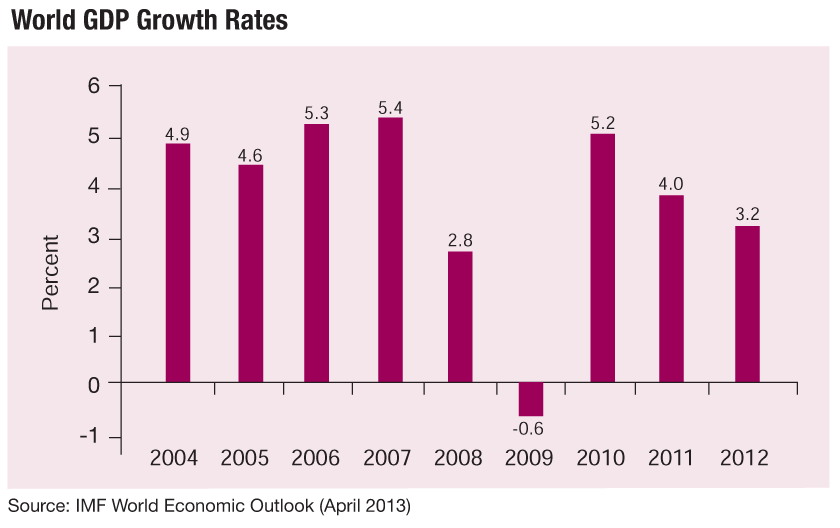 Conditions in Fiji's major trading partner economies were generally subdued in 2012. In the US, growth faltered towards year-end, led by a sharp fall in government spending, as well as declines in business inventories and exports. Nonetheless, signs of strength in consumer spending, business investment and housing market recovery suggested that the economy will continue to grow, albeit slowly, after a 2.2 percent growth in 2012. The Federal Reserve launched its third round of an open-ended quantitative easing program, expected to remain for some time, to support a more firm economic recovery.