Reserve Bank of Fiji
Complaints Management Update Quarter 1, 2013
A. Number of Complaints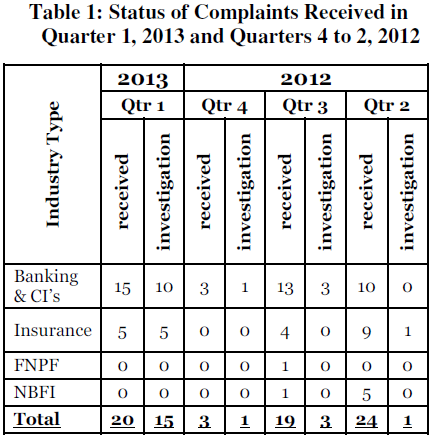 Out of the 15 complaints reported as "under investigation" for the first quarter, 8 complaints are being internally assessed by the RBF, 3 complaints are with complainants, while 4 complaints are with the financial institutions
Similarly, for Quarter 4 of 2012, 1 complaint is currently being assessed by the RBF. For quarter 3, 3 complaints are currently being assessed by the financial institutions and for quarter 2, 2 complaints are being internally assessed by the RBF.
B. Nature of Complaints
The nature of complaints received by the RBF on the banking industry was mainly on lending, mortgagee sale, interest rates, and fees/charges (Table 2).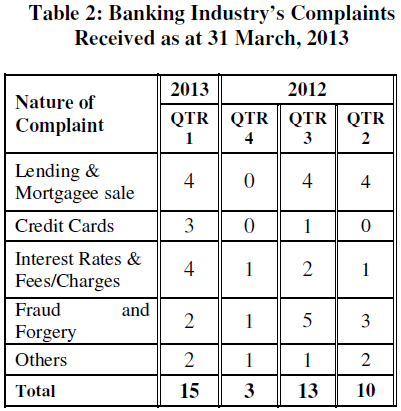 The complaints received by the RBF against the insurance industry were mainly on declinature of insurance claims by the insurers due to nondisclosure of material information. (Table 3)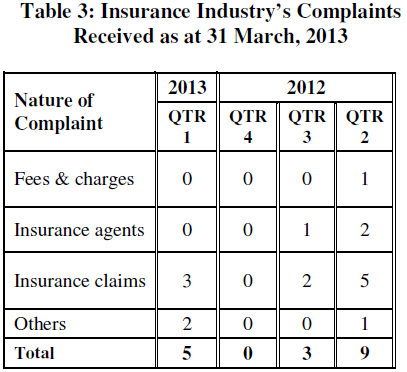 OUR VALUES…Professionalism…Respect…Integrity…Dynamism…Excellence
C. Consultative Meetings
During the quarter the RBF held 14 meetings with complainants. These meetings were convened to address concerns raised by the
complainants.
In the quarter, RBF held 6 meetings with financial institutions. These meetings were on issues raised by complainants and on ways to resolve them.
D. Complaints Management Forum
The first Complaints Management Forum for the year was held on 25th March 2013. There were two presentations made which were the Complaints Management Quarter 4, 2012 Update and Internet fraud with Commercial Banks.
E. Others
World Consumer Rights Day – 15 March 2013
The RBF was invited for a presentation and as a panelist on the topic "is there a need for Independent Financial Commission?" Chief Manage FSDC represented the RBF.
Financial Systems Development & Compliance Group
Reserve Bank of Fiji
2 April 2013